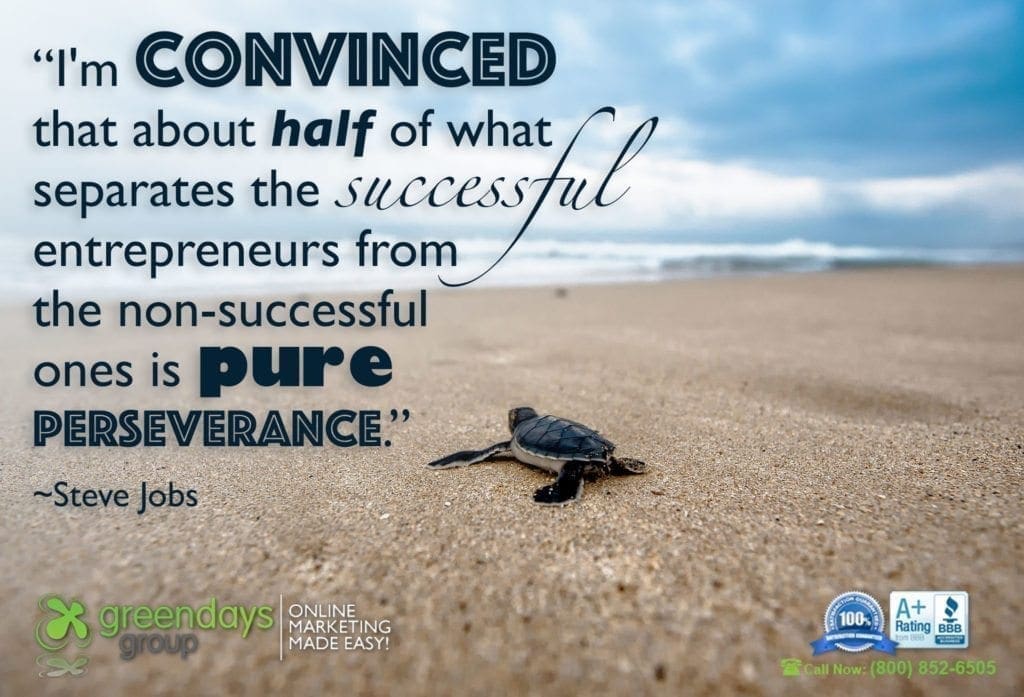 If you believe in dreaming big and in taking bold action, this story is for you…
He helped found a company & grow it.
Circumstances were such that he left the company.
He started another company and developed something different and exciting.
The old company he previously founded liked what they saw and asked him to come back.
He merged the tech he developed with the branding he believed in and changed the world.
Of course, I'm picturing Steve Jobs as I write this… and I'm calling it the Jobsian Journey.
Jobs encapsulated this journey perfectly when he said,
"I'm convinced 
that about half of what 
separates the successful 
entrepreneurs from 
the non-successful 
ones is pure 
perseverance." 
I have marveled at his refusing to give up. The absolute example of perseverance in the most difficult of circumstances. His utter commitment to making computing better. His passionate pursuit of game changing technology that resulted in Next… and how that ultimately informed the direction of Apple for many years to come.
(Not familiar with NeXT? Check this out…)
What I never expected is living a version of the Jobsian Journey myself…
…and it explains why I've been somewhat MIA from LinkedIn and other social networks over the last few months…
I joined a great website development firm (liftDEMAND) early on and we developed the first "easy to own" website service called SiteforLess.
After 15+ years growing Greendays, circumstances were such that I left the company about 18 months ago. (Amicably)
I started another digital marketing company (Anton.Digital) with the goal of going much deeper than websites and basic Email marketing. The effort resulted in the creation of a small business marketing solution that is different & exciting.
liftDEMAND partners asked me to come back and buy them out… which I have through a reverse merger. Paperwork was recently signed by all parties… the deal is done!
We're currently merging the services together and we intend to help at least 1,000 small companies (under 100 employees in each location) grow significantly in the next 5 years… including professional services, hospitality, and automotive sectors.
Since merging we've…
Introduced a custom cloud that offers WordPress based websites fantastic security & blazing performance while also being aggressively priced…
We've also introduced LIFETIME GUARANTEES on all custom website designs… the first guarantee of its kind in the industry.
And the marketing solution we're rolling out for SMBs will be backed by a full 1-year 100% satisfaction guarantee… completely unheard of.
I'm striving to be inspired by Steve Jobs brashness and asking the question,
"What can we do to completely upend the industry?"
Steve Jobs ultimately believed his vision would win out…
And I'm convinced that the vision we've embraced at Greendays for helping our clients RULE their markets will win out as well. We're on a mission to help 1,000 clients significantly grow their companies in the next 5 years. If you run a professional services company (finance, fitness, maintenance, etc.) or a hospitality company (independent hotel, winery, brewery, etc.) or perhaps an auto dealership… we would love to help you!
Reach out to us today and learn how we can make a lasting difference in your company's growth trajectory.