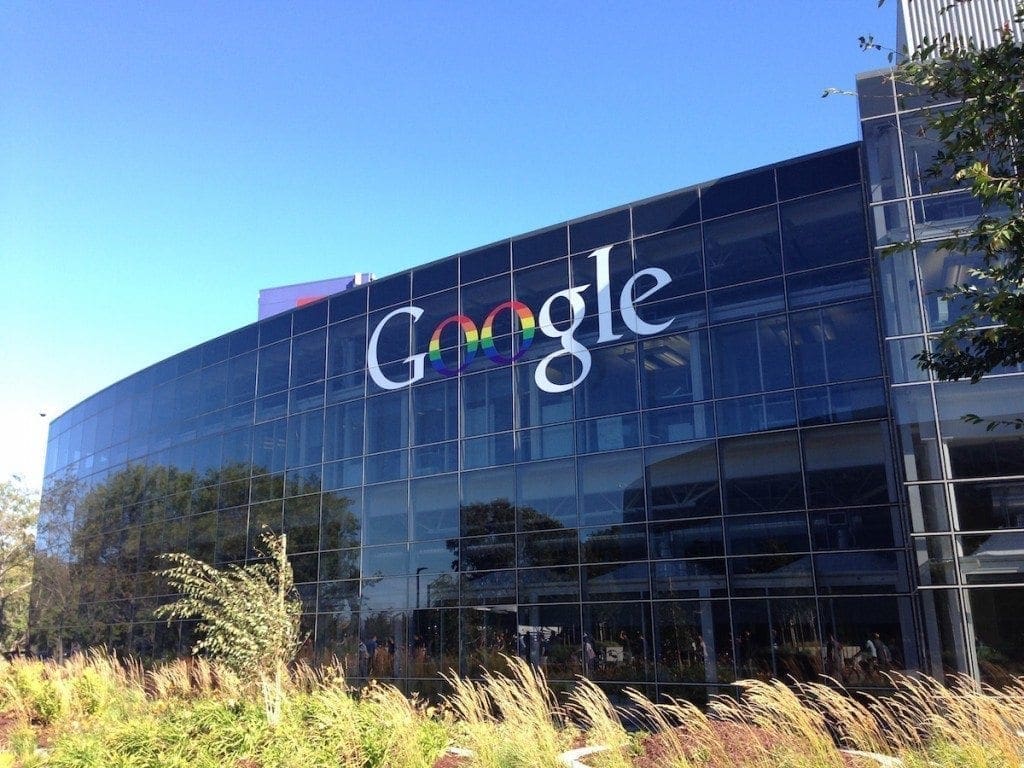 Google's 3 pack change this week has created a ton of devastation in its wake. Lower ranking businesses that were previously seen in the local results section have been removed!
For most small businesses, local search engine marketing has taken a terrible turn because of what many are calling the "snack pack" update.  This isn't a change to Google's algorithm, which is why we haven't posted this on our Google Algorithm update page.  Instead, this is a massive change to how Google displays information in its search results.
The way things were…
In the past Google would sandwich a "local" set of results between the advertising space and the organic results. Typically, this space featured 7 top ranked competitors for that local area who met the requirements of the search term. Business address and phone number were displayed. Google+ information was also shown here and if you clicked on a company name, you would be taken directly to their web site.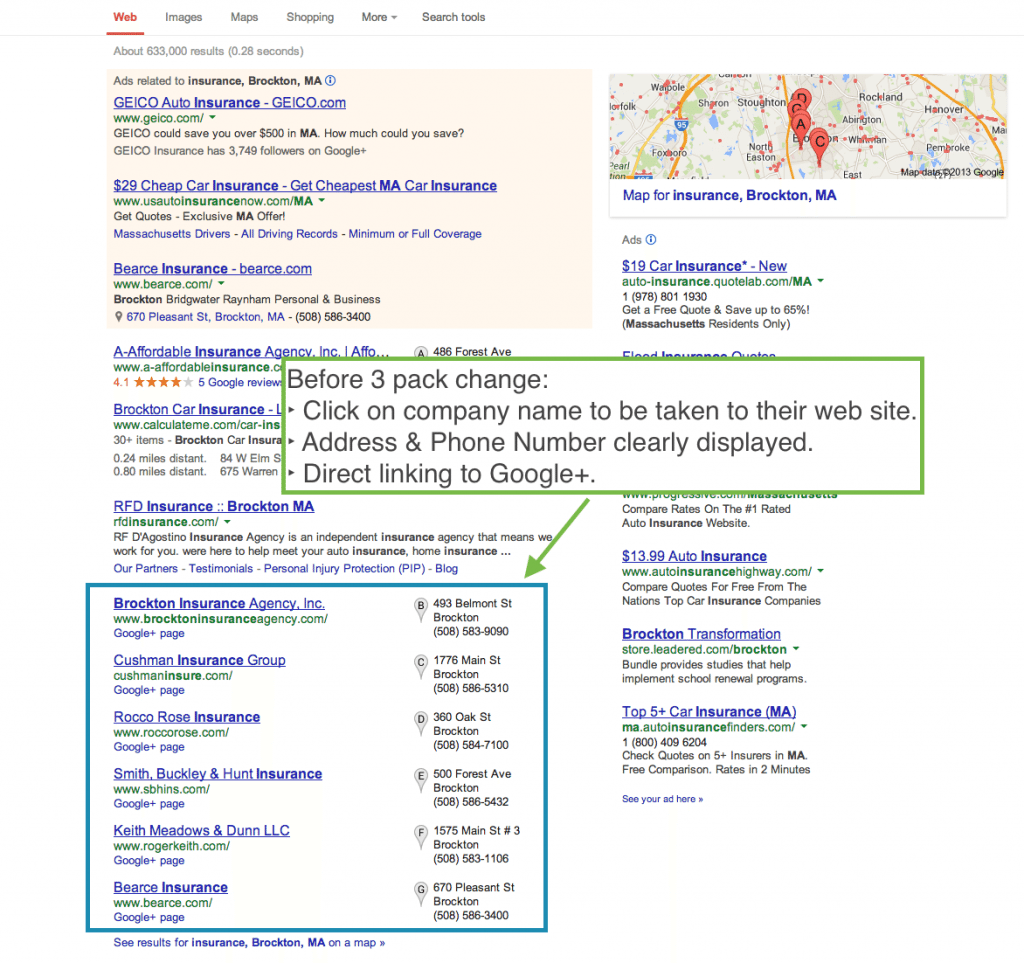 The big shift…
Now when a search results page is displayed, only 3 top ranked competitors are shown. This "snack" size list is the reason it is being called the snack pack. If your website isn't well ranked organically, your chances of being seen have been cut dramatically.
Furthermore, if someone clicks on your name thinking they will be taken to your website, they will instead be taken to a listing showing where your business is located on a map along with a long listing of competitors on the left-hand side.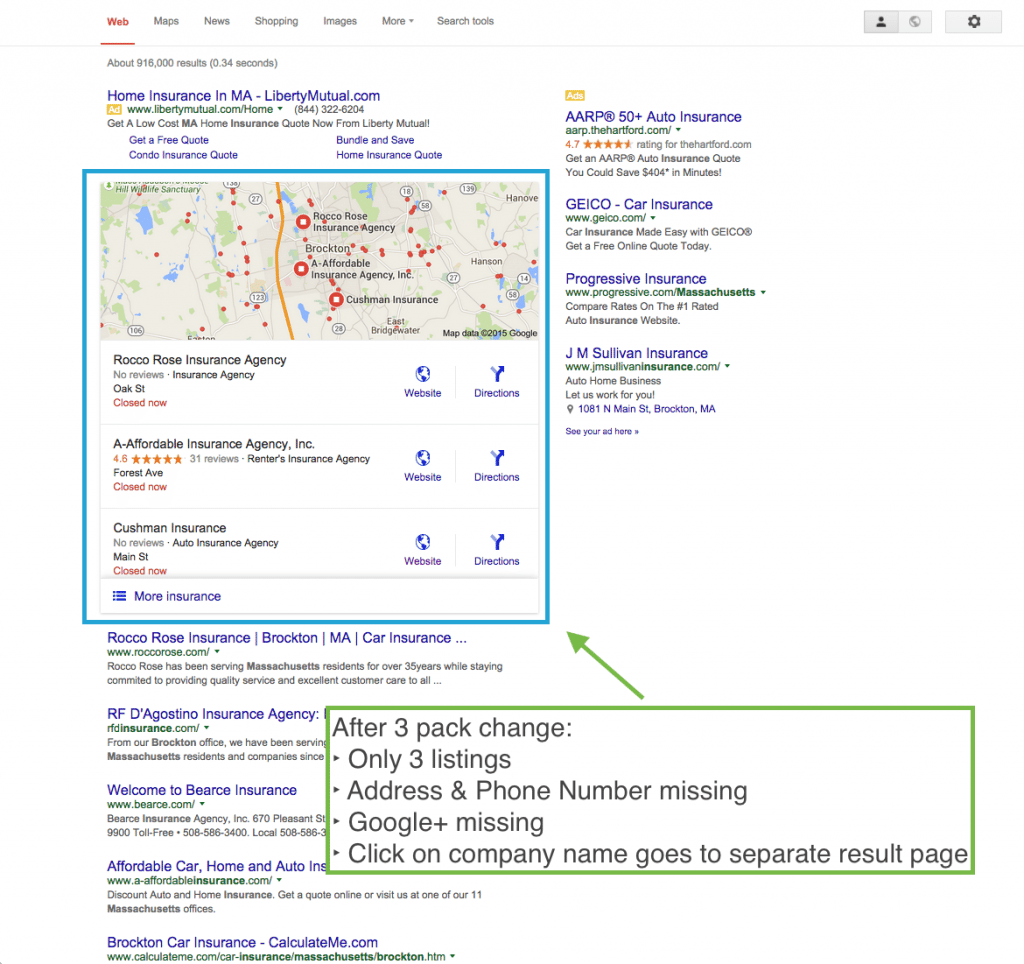 The results…
The shift is so new, we are missing large study data sets that we can utilize to see how this has affected results. But smaller tests are suggesting the following:
The change reinforces the strong value of being ranked organically in the top 3 positions of results. It appears to further strengthen the value of being ranked organically in the #1 position.
The change appears to diminish the number of clicks directly to company web sites.
The change appears to favor sites that have an active and engaging Google review program in place.
The reason for Google's change?
Google is clearly working to create more demand for its advertising services. By cutting the "local" results to only 3 local businesses, Google is seeking to compel local businesses to pay for advertising to be seen.
Bottom Line Impact on Local SEO
It will take time for people to adjust to clicking on the "website" link to be taken to a company's web site. For the foreseeable future individuals will likely be stuck in Google search results longer than they may want to be.
And while there is good news in the sense that more businesses are displayed on the secondary local results / map page, it is clear that businesses without quality Google reviews will pay a price until they catch up.
Finally, this creates greater emphasis on the importance of working toward placing within the top three positions for organic results… something that takes time, dedication, and resources to achieve and then defend.
Helpful tip:  Be sure your local business listing is correct in Google…
As always, if you have any questions about local search engine optimization marketing, please reach out to us. We're here to help.