[row]
[span size="8″]
Our new Video Tutorials make it quick and easy to get the support you need when you need it most.
The Video Tutorials are located right within our content management system in "standard" mode.  Just click on Home and you'll see Video Tutorials listed as an option.  Click on Video Tutorials to see our entire library available to you.
[/span]
[span size="4″]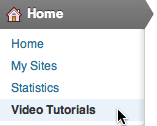 [/span]
[/row]
Our video tutorials are:
Comprehensive – covering the most important aspects of using WordPress, the content management system that liftDEMAND has adopted as a part of our complete Full Service and Bespoke digital marketing solutions.
Professional – our videos are authored, created, and voiced by experts.
Free – our video tutorials are included with our core hosting solution.
You'll find over 30 professional video tutorials that cover a wide variety of topics.  We encourage you to use these to learn more about using our WordPress content management system and all of its powerful capabilities.
Of course, this isn't your standard WordPress.  liftDEMAND has enhanced it by adding proprietary technologies you won't find elsewhere.  From security and compliance to "behind the scenes" SEO automation, we have all the tools you need running within a dynamic hosting environment.
Remember too that if you just don't have the time to make edits on your own, we include four Assisted Support incidents per year with our basic hosting.  Full Service includes an hour per month of our working on your behalf.  And Bespoke offers even more time plus advanced consulting for the most aggressive digital marketers out there…